Following yesterday's christening of Nashville as the MLS's newest soccer city, three other cities wait with baited breath to learn their fate in the MLS expansion process.
The other finalists — Sacramento, Cincinnati and Detroit — expected to learn the results of the MLS expansion conversation around the same time Nashville did. Instead, Music City emerged as the clear winner, leaving them in a cauldron of uncertainty.
Garber fanned the flames at Wednesday's event, saying the league did not plan to announce the next expansion bid today, but would release more information about the timetable for its decision.
UPDATE: The MLS just announced that it would take additional time to review each bid and would announce the second expansion team next year.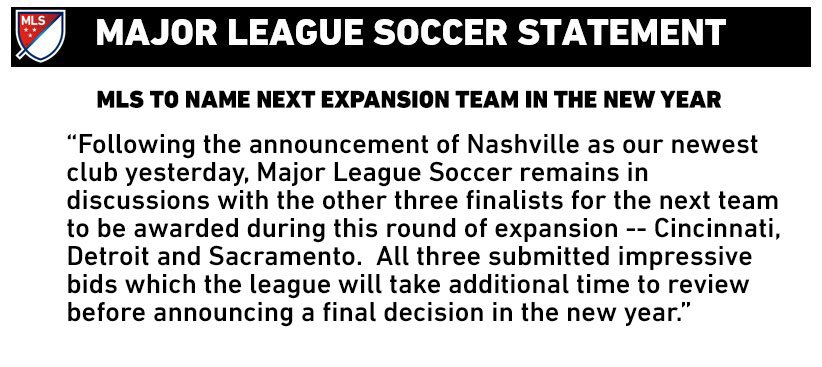 Sacramento
Long considered the pre-eminent frontrunner in the expansion process, Sacramento now finds itself on the precipice of missing out during this cycle.
According to the Sacramento Bee, the league's hangups are financially based. The MLS requires a $150 million expansion fee. In addition, Sacramento plans a $250 million soccer stadium.
Fan support in Sactown is not in question. Sacramento Republic FC drew the second-most fans in the USL last season, and the stadium plan has been in place for some time.
Cincinnati
When it comes to fan support, none of the bid cities approach Cincy's fervor. FC Cincinnati led the USL in attendance by nearly double in 2017, the team's second year in existence.
The question for the Queen City is all about the stadium plan. A $51 million expenditure was approved by the Cincinnati City Council, but the team is still working on securing a site for the venue.
Per WCPO in Cincy, Garber said yesterday that the city gave "an unbelievable pitch. They did a wonderful job. I'm confident they're in a good spot."
Detroit
Among the three remaining finalists, Detroit appears to be the underdog. The city has been unable to approve a plan for a soccer-specific stadium [although plans remain ongoing], a key requirement dictated by the MLS.
While the Motor City has the largest TV market among the finalists and an ownership group with major pro sports acumen, the lack of a stadium is likely the nail in Detroit's coffin.
We expect to learn today what the league's timeline for a decision looks like.